Alpha 2 Entrance Matting Range
MONUMAT PROFILE
| | |
| --- | --- |
| A | 31mm |
| B | 50mm |
| C | 12mm - Step, Tred, Grip |
| C | 17mm - Apha Brush |
MONUMAT SPECIFICATIONS
PRODUCT
Alpha 2
CODE
Step (02-AS2),
Tred (02-AT2),
Grip (02-AG2),
Brush (02-AB2)
PROFILE LENGTH
Up to 6500mm modules
PROFILE WIDTH
50mm wide treadrail with 31mm wide inserts
PROFILE DEPTH
12mm
DESCRIPTION
Rollup hard wearing entrance mat with rubber backing
APPLICATION
Heavy duty - internal/external
SUPPORT CHASSIS
Anodised aluminium
TREAD SURFACE
Step - Carpet, UV Stabilised, Marine grade
Tred - Ribbed Aprene
Brush - Course Carpet, UV Stabilised
Grip - Carborundum Grit
CONNECTION
PVC Joiner with interlocking hinge
AVAILABLE COLOURS
Step - 8
Tred - 1
Brush - 2
Grip - 7
MONUMAT INSERTS
Step
BLACK 102
SLATE GREY 103
CHARCOAL 110
RED 108
BROWN 111
BLUE 106
SAND 101
LATTE 105
Latte discontinued. Available whilst stocks.
Tred
Black 132
FINISHES
CLEAR ANODISED
BLACK ANODISED
SOVEREIGN GOLD ANODISED
Brush
COCO 141
BLACK 142
Grip
BLACK 122
GREY 123

GLOW 127
RED 128
BROWN 121
BLUE 126
YELLOW 129
REQUEST SAMPLES
OPERATION & MAINTENANCE
HOW TO SPECIFY
Copy the prewritten specification below and update all sections in brackets to create your project specification.
Description
Monumat Alpha-(Step/Tred/Grip/Brush) 2 profile in (clear/ black) anodised finish aluminium with (nominate insert colour) insert to be installed within (MF1235/RF1296) (clear/black) anodised aluminium perimeter frame.
Manufacturer
Walmay Architectural Products Pty Ltd
Phone: 1300 393 493
Email: sales@walmay.com.au
Website: www.walmay.com.au
Example - Typical Specification
Monumat Alpha-Step 2 profile in clear anodised finish aluminium with charcoal insert to be installed within MF1235 clear anodised aluminium perimeter frame.
TYPICAL INSTALLATION METHODS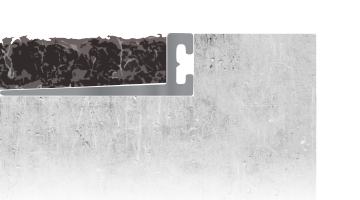 RECESSED WITHIN MF1235
SURFACE MOUNTED WITHIN RF1296